General News
Facebook Is Letting COVID Deniers Promote Mask-Burning Events and Marches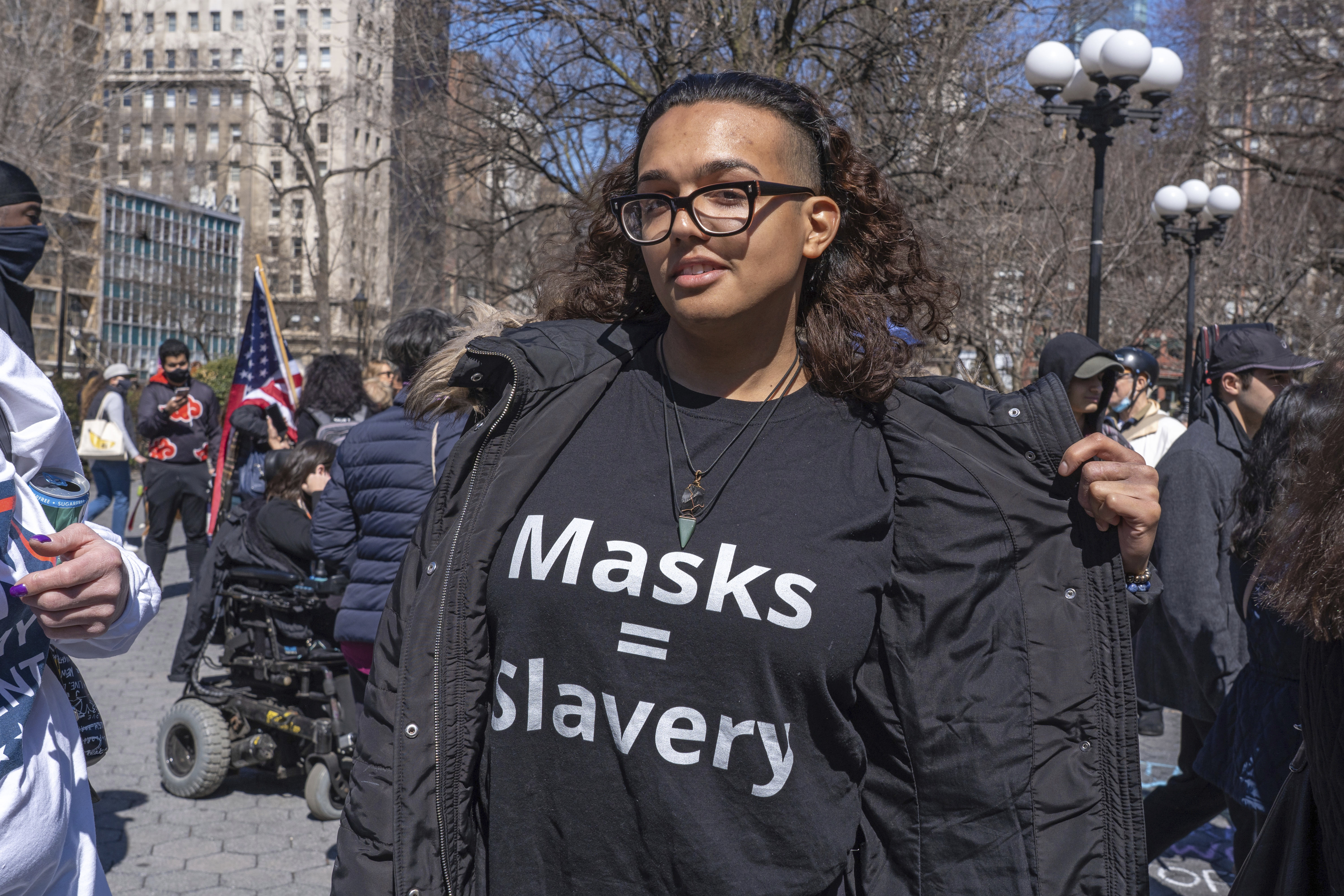 Facebook is facilitating the organization and promotion of anti-mask protests across the U.S. including a "Million Maskless March and Mask Burning" event which is slated to take place in Florida on Saturday.
The events appear to breach Facebook's prohibition on posts that discourage good health practices such as mask wearing, but Facebook has done nothing to prevent their spread so far. And now, the events have caught the attention of more extreme corners of the internet, including QAnon followers.
Research conducted by media watchdog Media Matters for America (MMFA) and shared exclusively with VICE News, found at least eight anti-mask events being organized and promoted on the platform.
Saturday's event is being organized through a private Facebook group called ReOpen South Florida. It is run by Fort Lauderdale resident Chris Nelson, who has organized multiple similar protests in recent months, including a "flash mob" inside a Target store.
Nelson says that Saturday will mark "one year of mask tyranny in Broward County and we will mark that date with a celebration of freedom."
He goes on to add that signs are a "very important" part of the march and provides some examples of the types of messages attendees could write on their signs: "Signs with three to six BIG BOLD WORDS are the best. 'MASKS ARE SLAVERY'. 'NO MORE MASKS'. 'MASKS OFF CHILDREN'. 'NO VACCINE PASSPORTS'."
As well as marching through Fort Lauderdale, the event will also see "a fun mask burning" that Nelson says is taking place with the full cooperation of law enforcement and will be "done in a safe and controlled manner."
The private ReOpen South Florida Facebook, which VICE News gained access to, has over 3,100 members. But Saturday's event is also being heavily promoted through a series of news articles in right-wing media outlets.
MMFA's research shows that one of these articles, from the Daily Wire, has garnered over 400,000 reactions on Facebook.
The researchers found dozens of posts with details of Saturday's march being shared in anti-vaccine, pro-Trump, anti-lockdown, and anti-mask groups. The researchers also found at least seven other similar events being promoted and organized on Facebook.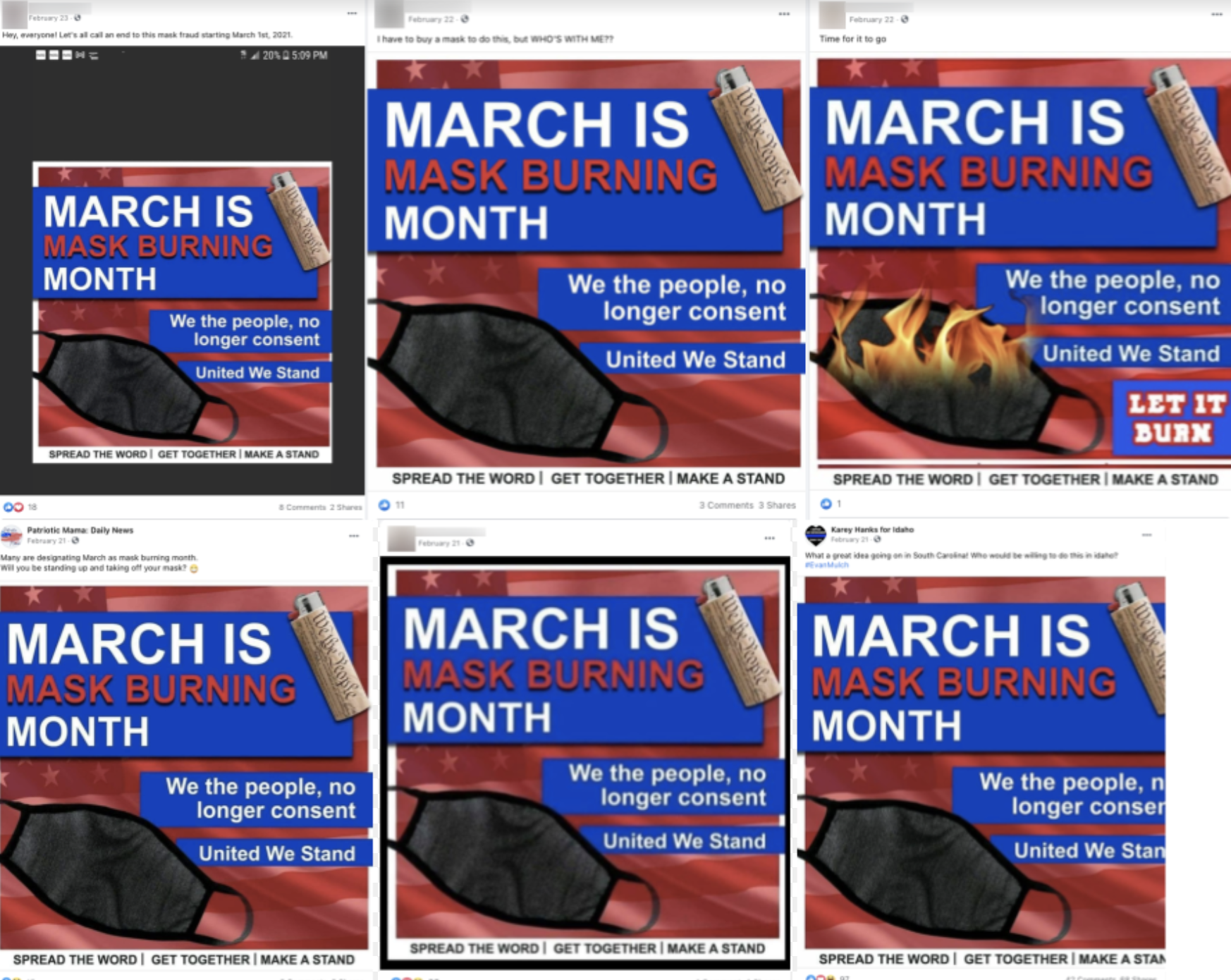 Just last month, during his latest testimony before Congress, Facebook CEO Mark Zuckerberg said that his platform removes misinformation that "could lead to imminent real-world harm." Speaking specifically about COVID-019 misinformation, the company said earlier this year that users would be notified when they interacted with "misinformation about COVID-19 that leads to imminent physical harm."
Facebook's own guidelines further promise to remove content "discouraging good health practices… this includes wearing a face mask."
Facebook did not respond to VICE News' request for comment about whether organizing and promoting a mask burning event would breach their guidelines.
The Centers for Disease Prevention and Control (CDC) clearly states on its website that wearing a mask helps prevent the spread of COVID-19, especially at small and large gatherings.
While Florida does not have a state-wide mask mandate in place, Broward County has one. However, Republican Gov. Ron DeSantis signed an executive order last month to remove any potential fines or sanctions against individuals who do not wear a mask in public—though officials in Broward County said businesses could still be fined for not implementing the rules.
Despite Nelson's protestations, Florida is further along than most states in terms of reopening its economy and lifting restrictions imposed as a result of the COVID-19 pandemic. But case numbers are now on the rise again, especially among younger people.
Nelson has a long history of protesting perceived wrongs. He has held anti-quarantine and "Stop The Steal" protests over the past year, according to research by First Draft News. His highest-profile activity to date appears to have been organizing a small anti-mask "flash mob" inside a Target store in September, the video of which was widely viewed online.
He also was among a group of about three dozen protesters who defied Fort Lauderdale's July 4 beach closure in 2020, the South Florida Sun-Sentinel reported.
As well as using Facebook, Nelson is promoting Saturday's march on other sites, including Twitter, Telegram and Free Florida, a forum that describes itself as "a community of Floridians against unconstitutional COVID measures."
One of the people responding to Nelson's post about Saturday's event posted the following picture, with the caption: "I got a few of these babies to be handing out to freedom loving patriots."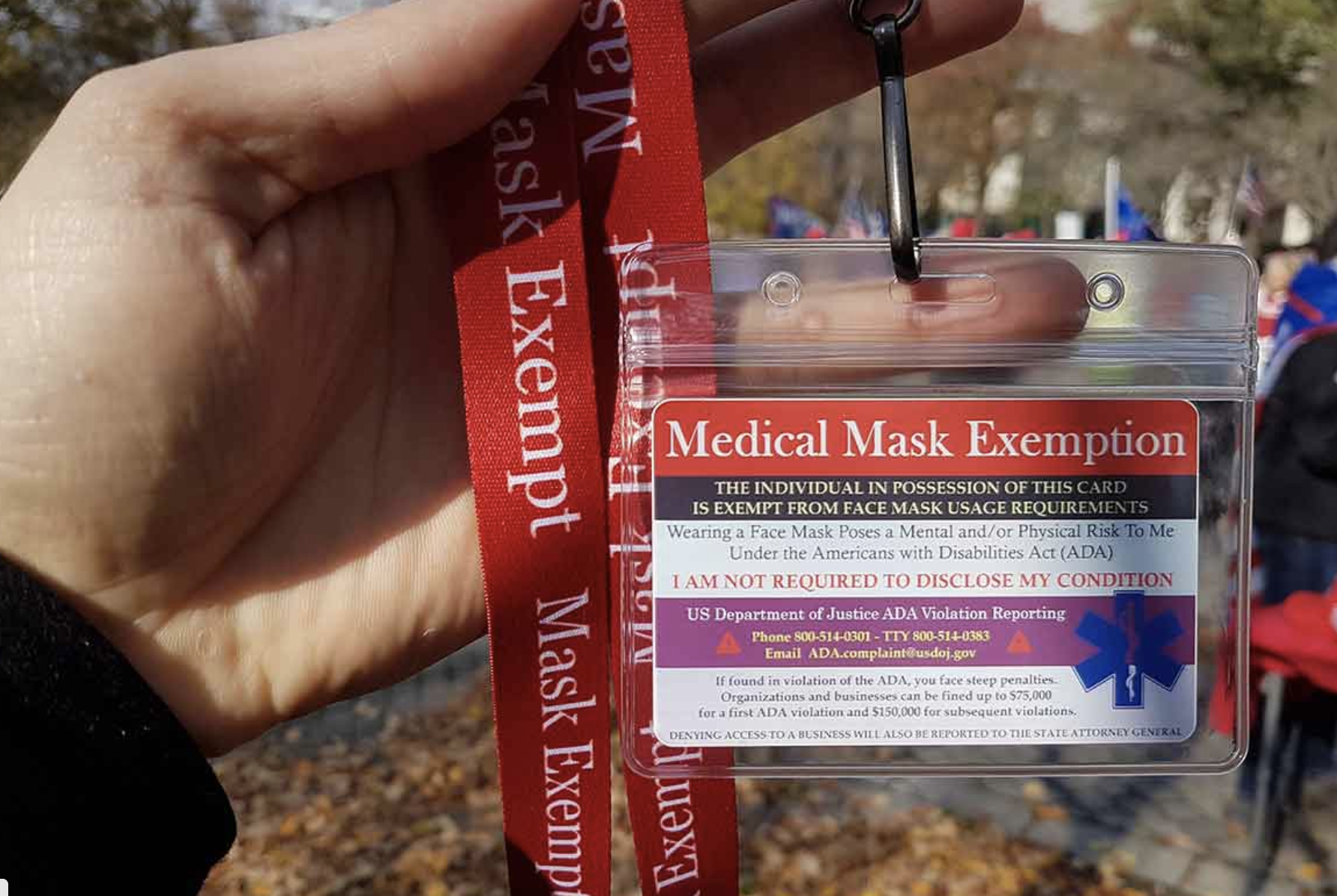 Fort Lauderdale police confirmed that they are aware of the march and will be monitoring it.
"We do not have any concerns at this time," Sgt. DeAnna Greenlaw with Fort Lauderdale police told local media outlet Patch. "The organizer regularly holds these events and has always been cooperative with law enforcement."
But as well as being promoted on Facebook, the event has attracted the attention of more extreme corners of the internet.
It has been promoted on the rabidly pro-Trump message board Patriots.win as well as the QAnon message board GreatAwakening.win.
A flyer for the protest, along with a report from the conspiracy theory website National File was also posted on 8kun's /qresearch/ board, the place where QAnon's anonymous leader—who is most likely 8kun administrator Ron Watkins—posted updates until they stopped last December.
Over the last 12 months, there has been a significant crossover between extreme groups like QAnon and anti-mask and anti-vaxxer groups. QAnon followers have shown their extreme online rhetoric can translate into real world violence, seen most recently when at least 34 QAnon followers were arrested for their part in the Capitol insurrection.
Source: Facebook Is Letting COVID Deniers Promote Mask-Burning Events and Marches